September 3, 2021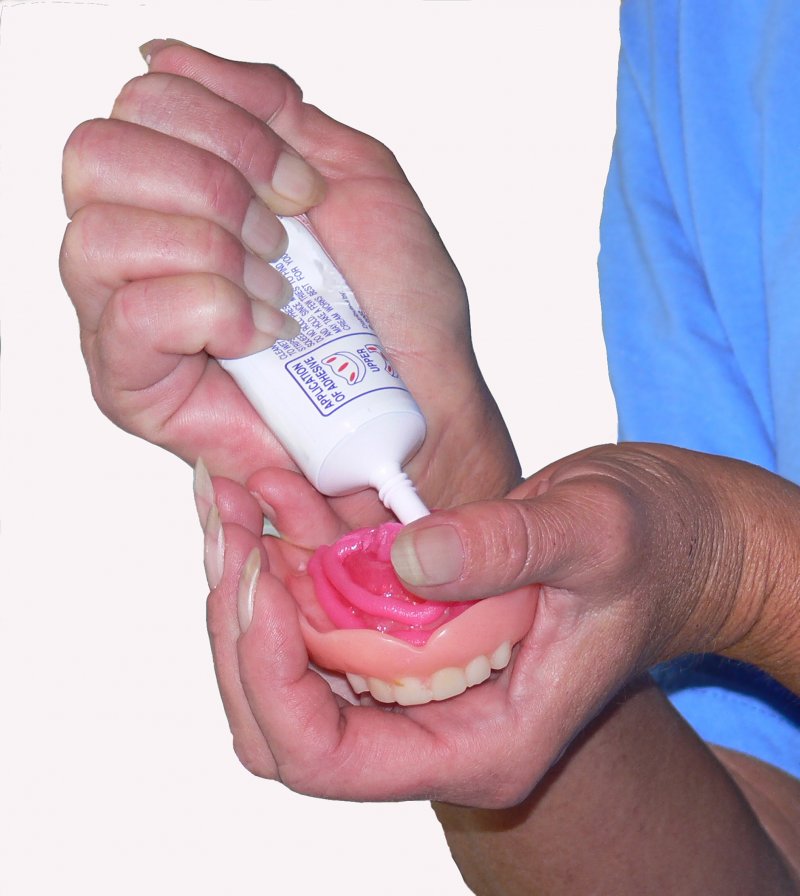 With 57% of Americans ages 65 to 74 wearing dentures, they are an incredibly popular way of replacing missing teeth. For some, using denture adhesive may be necessary to safely secure them to your mouth. Proper application of denture adhesive can prevent oozing and stability issues so you can feel more comfortable and confident in your smile. Here's everything you need to know about using denture adhesive the right way.
Why You Might Need Denture Adhesive
If you wear dentures, you may need adhesive for both your comfort and to keep them functioning as intended. Denture adhesive can also be used to:
Alleviate adhesion problems as a result of facial strain or dry mouth
Help you feel more confident in your dentures by increasing hold
Aid those who have had a stroke or who have a neurological disability
Provide additional stability if you have recently had teeth pulled
Types of Denture Adhesive and How to Use Them
There are several types of denture adhesives with different application processes for each. Three common forms of adhesive include:
Denture adhesive strips – To apply these, start by cleaning and drying your dentures. Next, peel open and remove the strips. Gently moisten each strip with water and attach them to the dentures taking care not to overlap. Rinse your mouth out with water before inserting the dentures, then hold them firmly in place and bite down.
Denture adhesive powder – First, thoroughly clean your dentures and wet them down with warm water. Sprinkle the powder along the underside of the dentures and shake off the excess. Hold them in place for a few seconds to allow the powder to set.
Denture adhesive cream – Clean your dentures and make sure they're dry before applying the adhesive in short strips or with a cotton swab. Rinse out your mouth before inserting the dentures and pressing them into place. Firmly hold them while biting down for a few second to secure them.
How to Remove Denture Adhesive
To remove denture adhesive from your gums, fill your mouth with mouthwash or warm water and swish it around to loosen the dentures from your gums. After that, spit the liquid into the sink and use a toothbrush with soft bristles to gently brush your gums in a circular motion. Another way to remove the adhesive from your gums is by filling a cup with a small amount of mouthwash diluted with water. Dip a toothbrush into the cup and lightly brush your gums before rinsing with warm water. To remove adhesive from your dentures, gently brush them and run warm water over the underside until they are clean.
Though it's ideal for your false teeth to fit properly, denture adhesive is a quick and easy way to stabilize them. By following the above steps, both your natural teeth and your dentures will stay fresh and functional!
About the Practice
Arbor Dental Care shows their dedication to providing their Lisle patients with exceptional care in everything they do. The highly qualified team works hard to maintain an atmosphere that's inviting for the whole family. They aim to aid you in achieving the smile you've always dreamed of through use of the newest technology, best techniques, and most advanced materials. For more information on how to use dental adhesive, call our office at (630) 969-2310 or visit our website.
Comments Off

on Interested in Using Denture Adhesive? Here's How to Do It
No Comments
No comments yet.
RSS feed for comments on this post.
Sorry, the comment form is closed at this time.