September 23, 2021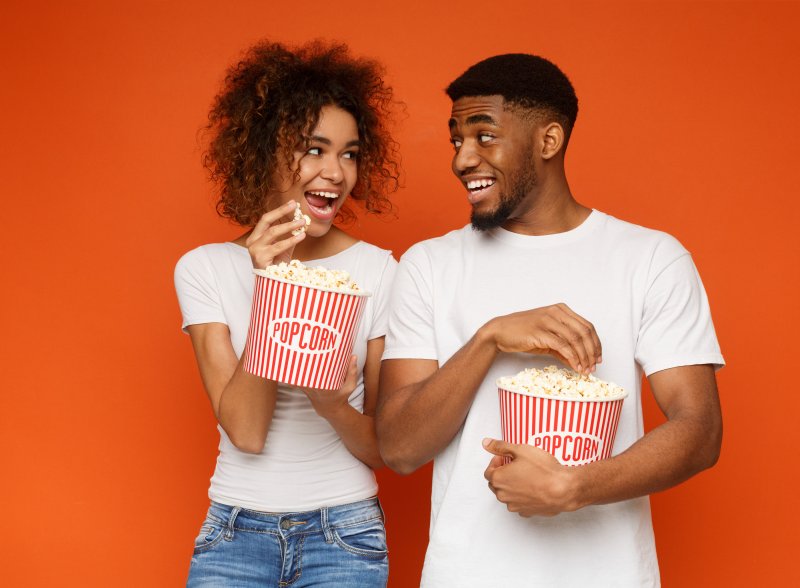 With more than 17 billion quarts of popcorn being consumed in the United States alone every year, this wildly popular food is the snack of choice for many Americans. Though it may be a delicious and somewhat nutritious way to enjoy movie night, popcorn can cause serious damage to your teeth and is linked to a variety of oral health risks. Learn more about the negative effects of popcorn on your dental health and healthy alternatives your teeth are sure to love.
How Popcorn Harms Your Teeth
Though lactic acid is a naturally occurring substance in the human body, your mouth doesn't usually produce or contain any lactic acid. Eating popcorn creates lactic acids that strip the enamel from your teeth. When harmful bacteria makes its way past the enamel, it multiplies and eats away at the tooth resulting in cavities. Popcorn hulls, the thin coating around the kernel, can also cause damage to your teeth. When they get stuck between your teeth or gums, that gives bacteria a source of food which can lead to tooth decay, bone loss, or tooth loss. Accidentally biting down on an unpopped popcorn kernel can cause damage to your teeth, too. This creates a great deal of force on your tooth which can cause it to crack or break.
What You Should Eat Instead
With these things in mind, eating popcorn may not seem worth the risk. Though it may not be the best option for your teeth, that doesn't mean you have to make it through movie night without something to snack on. So, what should you eat instead? Some alternatives to popcorn include:
Fruits with high levels of water and fiber such as apples, grapes, pears, blueberries, oranges, strawberries, and raspberries
Veggies such as celery and cucumbers paired with hummus
Low-fat dairy products with a high calcium content like yogurt and cheese
Soft, salted nuts rich in protein
With so much potential for oral health complications, popcorn is one snack food you should do your best to avoid. Though it may be difficult to stop eating your favorite snack, replacing it with healthy alternatives is a move your teeth are sure to thank you for!
About the Practice
Located in Lisle, Illinois, Arbor Dental Care is dedicated to providing patients with exceptional dental care. From simple checkups to complex dental procedures, our highly skilled team has worked hard to create an inviting environment for the whole family to help you achieve the healthy, beautiful smile you've always wanted. With the best techniques and the newest technology, we'll make sure you leave our office feeling more confident in your teeth than ever before! For more information on how popcorn can damage your teeth and what you should eat instead, visit our website or call our office at (630) 969-2310.
Comments Off

on How Eating Popcorn Can Have an Impact on Your Oral Health
No Comments
No comments yet.
RSS feed for comments on this post.
Sorry, the comment form is closed at this time.