October 20, 2021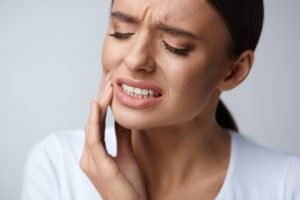 The hardest substance in your body protects your teeth, called your enamel. Although it is exceptionally strong, it's not indestructible. Statistics show 34% to 74% of adults between 30 to 50 years old have at least one chipped tooth. You might believe a fall or blow to your mouth are the only ways a tooth can break, but there's another culprit. There are several foods that can chip teeth. You can safeguard your smile and avoid a trip to an emergency dentist by avoiding 5 foods.
5 Tooth-Cracking Foods
Believe it or not, you may already have a chipped tooth or two. Over time, your teeth weaken and small cracks in the enamel can occur. They can be nearly undetectable and may not cause any symptoms; however, the structure of your tooth might be compromised. Biting on a hard food can cause the crack to worsen, which can even result in a piece of the tooth breaking off completely. Your dentist has a few tips to avoid a dental emergency when enjoying your favorite snack:
Popcorn: It is better to eat the tasty movie treat slowly to avoid accidentally biting down on an uncooked popcorn kernel.
Nuts: Although nuts are loaded with nutrients, don't use your teeth to crack open shells. You might get away with using them as tools for a while, but you'll eventually notice their edges wearing down.
Hard Candy: If you can't ignore your sweet tooth, choose a piece of chocolate instead of hard candy if you don't have the patience to wait for it to dissolve. Your teeth are no match for biting down on hard candies.
Ice: If you love crunching ice after finishing your drink, you may want to use a straw to resist the urge. Chewing ice can be a hard habit to break, but it can damage your smile.
Bones: If you love ribs or fried chicken, be cautious when eating off the bone, especially when biting down, and never chew on them.
Act Quickly to Save Your Tooth
Eliminating every hard food can't always prevent a chipped tooth, such as from a fall. With 1 in 6 Americans having a dental emergency annually, you should know what to do in case you find yourself in this situation. Even if the chip is minor, you need to see an emergency dentist. It's more than just an aesthetic problem. The life of your tooth may be at risk because it will be vulnerable to bacteria, infection, and further damage.
Contact your emergency dentist to have your tooth repaired right away. They'll get you into the office quickly to restore your tooth to its previous state, but don't wait until it's too late.
About Dr. Jeanelle "Nellie" Marchese
Dr. Nellie earned her dental degree from the Midwestern University in Downers Grove. She regularly undergoes advanced courses and seminars to provide exceptional care, no matter how complex the case. If you need an emergency dentist, contact our office right away for an appointment.
Comments Off

on 5 Foods to Skip to Avoid a Chipped tooth
No Comments
No comments yet.
RSS feed for comments on this post.
Sorry, the comment form is closed at this time.