December 4, 2021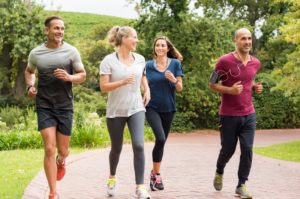 Exercise is certainly important to be healthy and in good shape, whether you are swimming, going for a jog, or something else. You might not have considered, however, the impact that physical exertion can have on your teeth.
Before you throw in the towel, however, there are steps you can take to ensure that exercise doesn't take a toll on your oral health. Here are some tips from your emergency dentist in Lisle about potential trouble spots that go hand-in-hand with exercise and things you can do to minimize the concern.
What Are Oral Health Concerns When I'm Exercising?
Here are a few ways that exercise can stir up trouble for your dental health:
Jaw clenching: Plus, teeth grinding (bruxism) needs to be mentioned, as both are common during high-intensity workouts. If you are frequently engaging in strenuous activities, this can become an issue over time. Not only can you damage your teeth, but your jaw joints are also under a lot of stress.
Mouth breathing: When you are exercising, you may find yourself breathing heavier with your mouth open to bring more oxygen into your body. However, when you do this too much, you develop dry mouth. This is when there isn't enough saliva in the mouth, and ultimately, bacteria have the perfect environment to thrive in. This means a higher chance of developing gum disease and cavities.
Sports drinks: Did you know they are even worse for your smile than soda and juice? While they are a way to rehydrate you and replenish electrolytes after a grueling workout, you could be looking at enamel erosion and tooth decay, as well. In fact, a study published in the Clinical Journal of the Academy of General Dentistry found that damage can occur after just five days of constant consumption! This is because beverages of this sort contain so much acid and sugar.
What Can I Do to Ensure Exercise is Safe for My Teeth?
Definitely don't spin this blog post into a reason for you to give up exercising. Instead, take the following steps so you can stay active while keeping your smile healthy:
Use an oral appliance: If you're known to clench your jaw and grind your teeth, wearing an oral appliance can help to prevent damage. This provides a thin barrier between the upper and lower teeth to protect them, your jaw, and your facial and neck muscles.
Breathe through your nose: Try to breathe through your nose as much as you can during your workouts. This way, you can help prevent your mouth from drying out.
Exercise moderation with sports drinks: Water is the best thing for you to drink when you exercise. If you're worried about getting enough electrolytes, try drinking coconut water instead. It has no added sugar and tastes delicious.
You shouldn't have to risk a dental emergency to have a healthy body, and you don't have to. Just be mindful of the concerns and preventive steps discussed above to keep your smile in stellar condition while staying in shape.
About the Practice
At Arbor Dental Care, we strive to provide friendly and exceptional dentistry to families in Lisle and surrounding areas. We take the time to listen to your concerns and answer questions so that we can make sure you are comfortable in your oral health choices. We welcome patients of all ages, we'll maximize your dental insurance, and we will stay ready in case you ever have a dental emergency. We certainly want you to continue exercising and making the effort to be healthy in all respects, and when you are aware of how you can protect your teeth along the way you are better off for it. Whether you need an emergency dentist, dental cleaning and exam, or anything in between, you can visit our website or call (630) 969-2310.
Comments Off

on How Can Exercise Be Harmful to My Oral Health?
No Comments
No comments yet.
RSS feed for comments on this post.
Sorry, the comment form is closed at this time.