February 16, 2022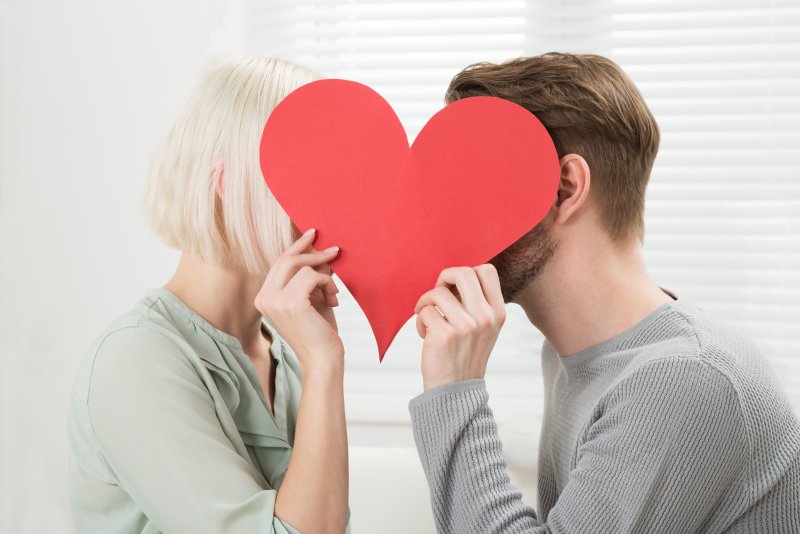 Valentine's Day is a time when couples show their love and admiration for each other through gifts like chocolates, teddy bears, and bouquets of roses. Whether your Valentine's Day date is someone you've been with for years or a new partner, wouldn't it be great to end the night with a smooch? If you're interested in making yourself more kissable this holiday, read on for five oral health tips that will help!
Tip #1: Practice Good Oral Hygiene
The best way to keep your breath fresh and your smile healthy at home is by practicing good oral hygiene. Use toothpaste that contains fluoride and a toothbrush with soft bristles to brush twice per day for two minutes. This will both prevent enamel damage and strengthen your pearly whites against decay. Additionally, floss before you go to bed to remove plaque and bacteria from between your teeth.
Tip #2: Keep Your Breath Fresh
Foods and drinks like coffee, garlic, and onions can cause bad breath and should be avoided to keep yours smelling fresh. Make sure to drink plenty of water to help wash away the bacteria that causes bad breath and to prevent dry mouth. You can also chew sugar-free gum or suck on hard candy to increase saliva production. Antimicrobial mouthwash can also be used to get rid of any remaining oral bacteria and to freshen up before your Valentine's Day date.
Tip #3: Improve Your Smile
If your smile is gapped, your teeth are chipped, or you have other aesthetic dental issues that you want to correct, speak with your dentist about cosmetic dentistry. These services can give your smile a more appealing look, which will be sure to impress your partner.
Tip #4: Kick Bad Habits to the Curb
Smoking, drinking excessively, and consuming large amounts of acidic or sweet foods and drinks are all bad habits that can lead to a range of oral health issues, including gum disease, cavities, and even oral cancer. Make sure to cut back on your intake of foods and beverages that aren't dentist-approved, and work with your dentist, doctor, or therapist to cut back on drinking and quit smoking.
Tip #5: Visit Your Dentist Regularly
Every six months, schedule an appointment to see your dentist for a checkup and cleaning. During these visits, your hygienist will do a deep clean of your teeth and around your gum line. Your dentist will then examine your mouth to make sure that there aren't any signs of oral health issues. If there are, they will work with you to come up with a treatment plan.
By using these five tips, you'll be able to maintain excellent oral health and a lovely smile. Your Valentine's Day date will be so impressed with your gorgeous grin that you might even land a second date!
About the Practice
At Arbor Dental Care, the talented team of oral health professionals takes pride in helping their patients achieve the gorgeous grins they deserve. They administer preventive services like checkups and cleanings to help you maintain excellent oral health and fresh, kissable breath that will make your Valentine's Day date want to come back for more! Are you interested in making an appointment with Arbor Dental Care or do you have questions about one of their many oral health services? If so, call their office at (630) 969-2310 or visit their website to get started.
Comments Off

on 5 Tips That Will Make You More Kissable This Valentine's Day
No Comments
No comments yet.
RSS feed for comments on this post.
Sorry, the comment form is closed at this time.