March 14, 2022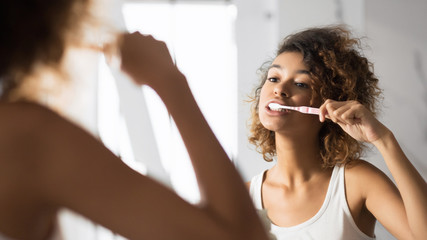 Spring is a common time for people to clear out old clothes, appliances, and furniture to make room for new ones. Though this is a popular way to breathe new life into an existing space, spring cleaning can also be done with your smile. Read on to learn about three ways that you can make improvements to your oral hygiene routine to keep your smile looking its best.
#1: Upgrade Your Toothbrush
According to the Centers for Disease Control and Prevention (CDC), toothbrushes need to be replaced every three to four months. At this point, the bristles will likely be frayed and worn, which will make them less effective at cleaning your teeth. If you aren't already using one, consider upgrading to an electric toothbrush. They are much more effective at removing plaque than manual ones, so they are the better option for preventing cavities.
#2: Clean Your Toothbrush Holder
You may not think about it that often, but cleaning your toothbrush holder is an important part of preventing the spread of germs. Toothbrush holders are exposed to all of the same bacteria as the rest of your bathroom, so make sure to scrub it with soap and water before placing your new toothbrush into it. You can also clean it with disinfectant or by running it through a dishwasher. Make sure to do this at least once per week to keep both the holder and the toothbrushes in it clean.
#3: Schedule a Professional Teeth Cleaning
Has it been longer than six months since you saw your dentist? Biannual dental visits are a crucial part of keeping your mouth healthy, so make sure to schedule an appointment with your dentist as part of your spring cleaning routine if it's been a while. During these appointments, your teeth and the area around your gums will be thoroughly cleaned to get rid of any plaque or tartar that has built up. Your dentist will then examine your mouth to see if there are any oral health issues that need to be treated. If there are, they will work with you to come up with a plan to get your smile back on track.
This spring, make sure to start the season out on the right foot by getting your oral health in good condition and making sure you have the tools you need to keep it that way. Your smile will thank you for it!
About the Practice
At Arbor Dental Care, their compassionate team is dedicated to offering exceptional oral health services. From preventive treatments like checkups and cleanings to dental restorations, they can help you do some Spring cleaning to your smile to make sure it stays as healthy and bright as possible. Are you ready to set up an appointment with Arbor Dental Care or do you want to learn more about their oral health services? If so, call their office at (630) 969-2310 or visit their website to get started on your journey towards the gorgeous grin you've always dreamed of.
Comments Off

on 3 Ways to Give Your Smile a Spring Cleaning
No Comments
No comments yet.
RSS feed for comments on this post.
Sorry, the comment form is closed at this time.