June 6, 2022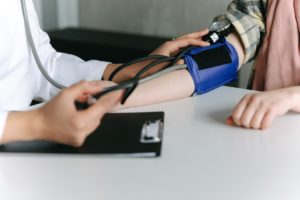 Did you know tooth decay isn't the only threat to your oral health? Gum disease is also a leading cause of tooth loss, but the preventable infection affects more than your smile. Research has found several connections between gum disease and health issues, like Alzheimer's disease, respiratory infections, and preterm delivery. Unfortunately, the risks of poor gum health don't end there. Researchers have found a link between gum disease and heart health. Here's what you need to know to keep your mouth and your heart healthy. 
Gum Disease and Cardiovascular Health
Gum disease is an infection caused by bacteria in plaque and tartar buildup from poor oral hygiene habits. Although brushing, flossing, and routine dental care can keep the infection at bay, the Centers for Disease Control and Prevention estimates that 50% of adults have gum disease. While it's treatable without causing any long-term damage when caught early, many people don't recognize the initial signs of the infection.
Without any treatment, gum disease will destroy the supporting structures of your teeth, which can ultimately lead to tooth loss. However, the infection may enter your bloodstream. As it circulates throughout your body, it causes an inflammatory response that can affect your blood pressure.
As your heart pumps blood throughout your body, it creates pressure on the walls of your arteries. Higher than normal blood pressure is called hypertension, which can cause several health concerns, like headaches, shortness of breath, and nosebleeds, but those aren't the only risks. Hypertension can increase your likeliness of heart attack and stroke.
With nearly 50% of adults having high blood pressure, a healthy diet and regular exercise aren't the only ways to prevent heart attacks. Your gum health can support a strong cardiovascular system.
Supporting Gum and Heart Health
A solid oral hygiene routine at home is your first line of defense against gum disease. The American Dental Association recommends brushing at least twice daily using a soft-bristled toothbrush and nonabrasive toothpaste. Clean all surfaces of your teeth for at least two minutes.
Although brushing is effective, your toothbrush can't reach everywhere in your mouth, like between your teeth. Daily flossing is the only way to remove plaque and food particles left behind by your toothbrush. Besides caring for your smile at home, don't forget to visit your dentist every 6 months for a cleaning and checkup. They'll remove any buildup to keep your teeth clean and healthy. Your dentist can also spot the early signs of gum disease (gingivitis) to provide the quick care you need to keep your mouth healthy.
If you develop bleeding, swollen, or red gums, don't wait for your next preventive visit to see your dentist. Schedule an appointment right away to keep your mouth and heart healthy.
About Dr. Frank Marchese
Dr. Marchese earned his dental degree from the University of Illinois College of Dentistry and regularly continues his education to provide modern services, like gum disease therapy. If it has been more than 6 months since your last cleaning and checkup, or you have signs of gum disease, contact our office today to request an appointment.
Comments Off

on Can Gum Disease Cause High Blood Pressure?
No Comments
No comments yet.
RSS feed for comments on this post.
Sorry, the comment form is closed at this time.