October 28, 2022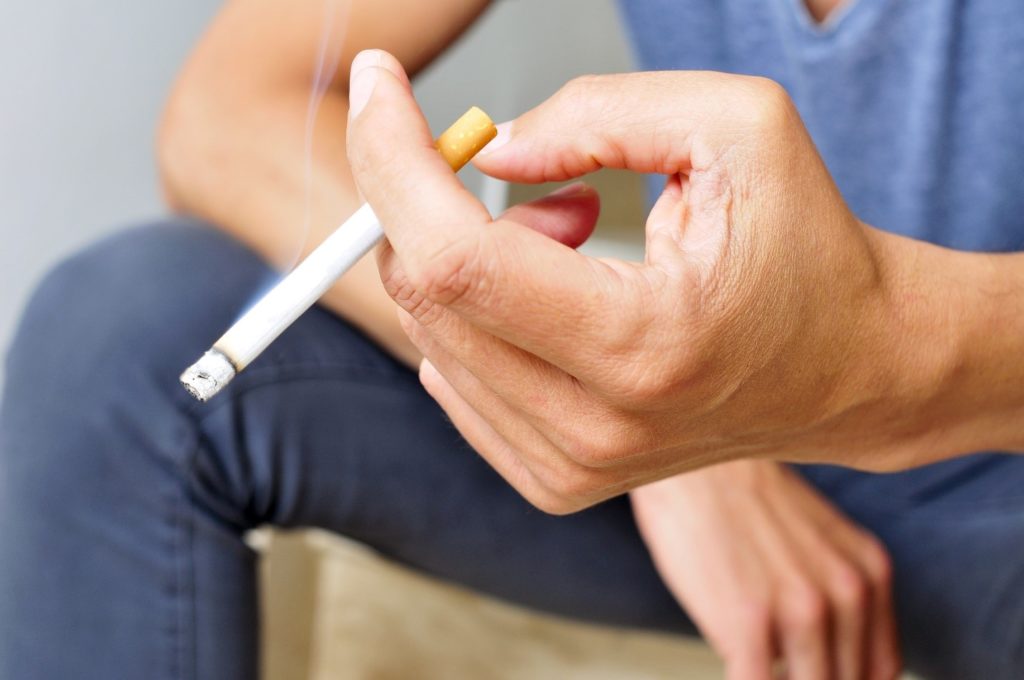 When it comes to replacing missing teeth, dental implants are one of the most popular options. These screws are generally made from titanium since it can fuse with the jawbone through a process called osseointegration. If you smoke cigarettes and are thinking about replacing missing pearly whites, you may be wondering if it's possible to do that with dental implants. Read on to learn about the link between smoking and dental implants as well as if smokers can safely receive this treatment.
The Negative Impacts of Smoking with Dental Implants
Researchers have run extensive tests to determine how smoking impacts your smile. They have found that it does a lot of damage to your oral health, such as gum tissue loss. Additionally, toxins from cigarettes delay healing. This causes significant complications post-dental implant surgery by impeding osseointegration.
Studies have also found that the stress smokers felt from not smoking left them more vulnerable to infection, which can cause complications with healing properly. Simply put, smoking cigarettes significantly increases your risk of dental implant failure. For this reason, it is strongly encouraged that you quit smoking before moving forward with the procedure.
Can You Smoke Cigarettes Once You've Healed?
The answer to this question may vary. Even so, fully recovering from dental implant placement doesn't mean that you can't encounter complications. Tobacco use damages the soft tissue in your mouth and also increases the rate of bone loss. This is why smokers are twice as likely to experience dental implant failure than those who don't smoke. Smoking can lead to oral health issues like dry mouth and gum disease, and not wanting to encounter implant failure is a great reason to work on kicking this bad habit for good.
5 Tips for Preventing Dental Implant Failure
So, smoking can put your new smile at risk, but what all can you do to prevent implant failure? There are several ways that you can lower your risk, including:
Quit unhealthy dental habits – This includes smoking, chewing on ice and other non-food items, consuming too many sweet and acidic foods and drinks, and using your teeth as tools.
Have a good oral hygiene regimen – This means brushing your smile twice one in the morning and once at night for two minutes, flossing nightly, and regularly using mouthwash.
Visit your dentist – You should see them every six months for checkups and cleanings.
Eat a balanced diet – Fresh, crisp veggies and fruit, fish, dairy products, and lean meats all contain vitamins and nutrients that benefit your smile.
Stick to soft foods – Eating foods like oatmeal, applesauce, and yogurt immediately following your dental implant procedure will prevent damage and additional discomfort.
Missing teeth with have a big impact on your quality of life, but smoking and dental implants don't mix. If you need help quitting, speak to your dentist and other health professionals to come up with a plan that will help you achieve better oral and overall health!
About the Practice
The skilled team at Arbor Dental Care is led by Dr. Jeanelle "Nellie" Marchese and Dr. Frank Marchese. They are based in Lisle and treat patients in the surrounding area with procedures to help them avoid dental issues as well as repair damaged or imperfect smiles. If you're a smoker who is missing one or more teeth and wants to get them replaced, they can teach you about the relationship between smoking and dental implants so you can make the best choice for your beam. Visit their website or call (630) 969-2310 to learn more or to make an appointment.
Comments Off

on Smoking and Dental Implants: What You Should Know
No Comments
No comments yet.
RSS feed for comments on this post.
Sorry, the comment form is closed at this time.