November 4, 2022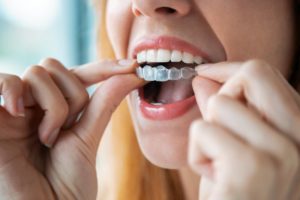 Do you have crooked or misaligned teeth? You may be looking for ways to achieve the perfectly straight smile you've always wanted. Well, Invisalign is a great option to consider! Unlike traditional metal braces, it's a more discreet and convenient method of aligning your pearly whites. Additionally, if you have dental insurance, now's the perfect time to start treatment and make the most of your benefits while you still can. Read on to learn more from your dentist in Lisle.
What Is Invisalign?
Invisalign is a modern orthodontic treatment that uses a series of clear, removable aligners to shift teeth into more ideal positions. It's a virtually invisible way of enhancing your smile without the use of metal wires and brackets. Each set of plastic trays is worn for approximately two weeks each, at a minimum of 20-22 hours a day. Since the aligners use constant, gentle pressure to move teeth, neglecting to follow this daily timeline can delay your treatment.
Does Dental Insurance Cover Invisalign?
Do you have medical insurance or dental insurance? One may cover a part of the cost of your Invisalign treatment. Your dental coverage may apply to Invisalign the same it does for conventional braces. That said, your policy may pay either a preset percentage of your treatment's cost or it will pay up to a predetermined dollar amount.
Once your dental insurance plan has paid out its share of orthodontic treatment, it will no longer be covered by your plan. If you're unsure whether your plan will cover Invisalign, contact your employer's HR department or ask your insurance provider. You can also purchase a separate orthodontic insurance policy if you need coverage.
Why the End of the Year Is the Right Time to Start Invisalign Treatment
Do you need extensive dental treatment like Invisalign which requires multiple visits? The end of the year is the perfect time to get started – especially if you've already met your deductible and haven't hit your annual maximum. Most dental benefits operate on a calendar-year basis, meaning anything left unused after December 31 will expire.
If you're getting close to your annual maximum, your dentist can help create a plan to maximize your benefits by splitting treatment between this year and next. With this strategy, you can optimally use your coverage and decrease your out-of-pocket costs significantly.
Are you thinking about getting Invisalign? Now's the perfect time to start your journey. By doing so, you can make the most out of your dental insurance benefits while you still can!
About the Author
Dr. Frank Marchese has been working for the smiles of his patients for more than three decades. He earned his dental doctorate from the University of Illinois and is a Master in the Academy of General Dentistry. Dr. Marchese offers Invisalign, plus his office team will be happy to discuss your dental insurance or affordable financing if needed. Schedule an appointment on his website or call (630) 969) 2310.
Comments Off

on When Is the Perfect Time to Start Invisalign?
No Comments
No comments yet.
RSS feed for comments on this post.
Sorry, the comment form is closed at this time.