January 11, 2023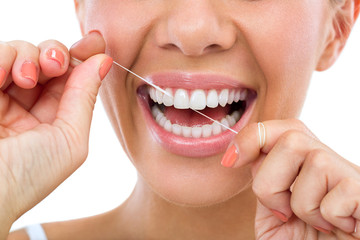 It's the start of a new year, and that means that people are beginning to work on their resolutions. The possibilities for what your New Year's goal can be are endless. But, if you have some ways you could improve your oral health, why not set a resolution to do that? Since only about 30% of people floss daily, cleaning between your pearly whites is a great place to start. Keep reading for five tips that will help you achieve your New Year's resolution to floss more often.
Tip #1: Start Off Slow
According to the Economic Times, only about 16% of people actually follow through with their New Year's resolutions with most of them giving up within six weeks. One of the main reasons for this is that people set overzealous goals for themselves. This can make them feel discouraged if they don't progress as quickly as expected.
If your New Year's resolution is to move from not flossing between your pearly whites at all to doing so at least once per day, you might run into the same issue. Instead, start off slow. Consider incorporating flossing into your dental hygiene routine a few days per week, and work your way up to doing it every day over time.
Tip #2: Refresh Yourself on the Proper Technique
Both flossing is key to preventing cavities from forming between your pearly whites, it won't be as effective if you don't do it the right way. Consider looking up videos or diagrams that show you the proper way to hold your dental floss and glide it around your teeth. This will ensure that you clean your smile as effectively as possible.
Tip #3: Use the Right Products
Traditional dental floss isn't a good fit for everyone. People who struggle to use it due to mobility issues like arthritis you may want to look into alternative options, such as water flossers. additionally, if you decide to use traditional floss, make sure to pick one that fits you best, such as waxed, unwaxed, and different flavors and thicknesses.
Tip #4: Remind Yourself to Floss
Remembering to floss your teeth is half the battle. Consider setting alarms or reminders on your phone. You can also place your floss next to your toothbrush and toothpaste or put a sticky note on your bathroom mirror so it's easier to remember.
Tip #5: Make Flossing Convenient
if you are used to having a busy day, this can make flossing harder to have time to do. make flossing more convenient for yourself by carrying floss around in your backpack, purse, or pocket. This will allow you to clean between your teeth whenever you have a chance, no matter how busy your day is.
About the Practice
Dr. Frank Marchese and Dr. Jeanelle "Nellie" Marchese are the skilled dentists who lead the Lisle team at Arbor Dental Care. They are dedicated to providing patients of all ages with the exceptional dental care they deserve. If you have a New Year's resolution to floss more often, they can also give you tips that will help you stick to it and achieve the excellent oral health you're hoping for. If you want more information on the services they offer or to set up an appointment, visit Arbor Dental Care's website or call their office at (630) 969-2310.
Comments Off

on 5 Ways to Stick to Your New Year's Resolution to Floss More
No Comments
No comments yet.
RSS feed for comments on this post.
Sorry, the comment form is closed at this time.