March 6, 2023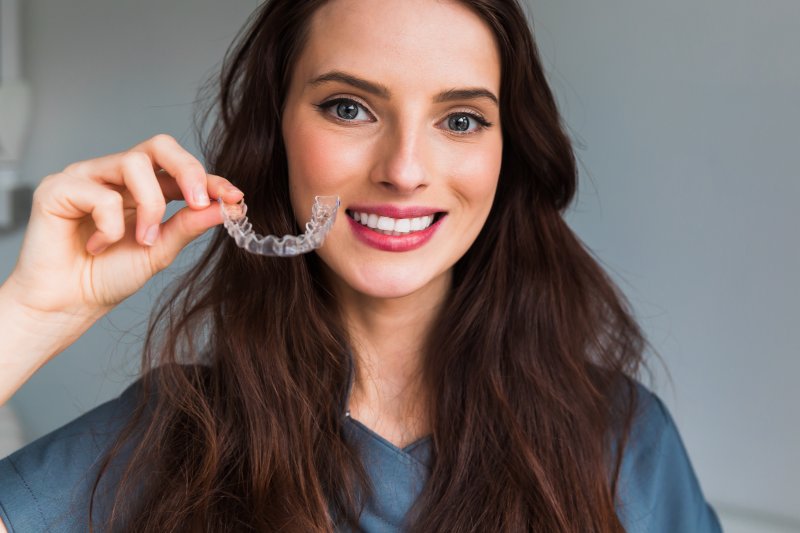 One of the reasons patients are drawn to Invisalign aligners is how remarkably subtle they are. These clear trays fit snugly over your teeth, so much so that most people won't have any idea you're wearing them unless you mention it.
However, it's possible to see your aligner start to yellow over time if you aren't careful. If you've noticed that happening, here are a few reasons why that could be the case, and what you can do about them.
Why Is my Invisalign Aligner Turning Yellow?
Like with teeth, there are quite a few reasons your Invisalign aligner can start to yellow, but most of them come down to not taking care of the trays quite as well as they need, resulting in some kind of buildup. For example:
Saliva: Your saliva is normally clear, but when it dries it tends to have a little bit of a yellowish tint. Your aligners naturally come in contact with a lot of saliva, so it's important to rinse them well when you take them off.
Plaque: Plaque is ordinarily clear, but can occasionally be tinted yellow. It also collects pigments from things you eat and drink, trapping them in your trays when you put them back on. In this way, an excess of plaque can cause yellowing.
Stains: Many drinks that can stain your teeth—coffee, tea, red wine, etc.—can also discolor your aligners if you aren't careful. That's why it's usually recommended that you remove your trays when drinking anything that isn't plain water.
How to Keep your Aligners Clear
As was hinted at previously, proper maintenance is key to ensuring that your aligners don't start to yellow. Whenever you take out your trays to eat, it's important that you clean them well before putting them back in. Brush them with a soft-bristled toothbrush before putting them on—just don't use any toothpaste, as this can potentially wear down your aligners.
You should also brush and floss your teeth before putting on your trays; that'll prevent plaque and excess food from dyeing your aligners.
About Our Practice
At Arbor Dental Care, we want to partner with you to create a smile that can last a lifetime. To do that, our expert dental team will take the time to understand your individual needs and create a custom treatment plan to ensure that they're met. We're also comfortable with patients of all ages, so no matter what phase you're at in your life, we'll be happy to meet you where you are.
If you have any questions about caring for your Invisalign aligner, we can be reached at our website or by phone at (630) 969-2310.
Comments Off

on How Invisalign Aligners Can Yellow, and What You Can Do About It
No Comments
No comments yet.
RSS feed for comments on this post.
Sorry, the comment form is closed at this time.