May 6, 2023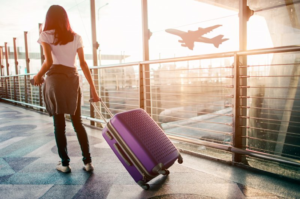 Are you someone who finds themselves traveling all the time? Whether it's for business or pleasure, if traveling is a big part of your life, you might wonder how it impacts certain things—like receiving dental implants! Given the importance of replacing missing teeth, it's in your best interest to have lost pearly whites restored as soon as possible—but if you go the dental implant route, will this take you out of commission for a while? Not necessarily! Here's what your dentist wants you to know.
What to Expect While Recovering from Dental Implant Surgery
Dental implant surgery can seem a little intimidating; you're receiving a comprehensive tooth replacement that's placed directly into the jaw, so it's not unreasonable to assume that a lot of work goes into the process, including the recovery period. However, patients who adhere to their recovery guidelines will find that the recovery process isn't just manageable; it's relatively speedy and often doesn't impair travel, or daily routines for very long. The implant sites need to be protected, the mouth needs to be kept clean, and specific dietary guidelines need to be followed to ensure a smooth recovery and future dental implant success.
Yes, You Can Still Travel After Getting Dental Implants
The good news is that whether you're planning to travel by land, air, or sea, dental implant recovery rarely is an issue or safety concern that impacts the ability to travel. That said, depending on the complexity of the surgery and the number of implants that were placed, your oral surgeon might recommend that you wait several days before embarking. For example, single dental implants that require little preparation often allow patients to fly or travel immediately afterward. But for complex surgery/receiving multiple implants, it might be suggested that patients wait two or so weeks before boarding a plane.
In any case, downtime is typically minimal, and complications are minimized if patients adhere to their recovery guidelines. Patients who are worried about discomfort prior to air travel might also consider taking an over-the-counter painkiller before their flight or accessing soft foods at the airport terminal to ensure that they're prepared. Additionally, packing plenty of gauze and a cold compress if possible is also advisable.
You won't have to worry about canceling your travel plans if you're wanting to get dental implants—you can safely rebuild your smile and continue loading up and going all sorts of places!
About the Practice
The team at Arbor Dental Care proudly serves families in the Lisle, IL area, offering a wide range of preventive, cosmetic, and restorative options like dental implants. If you have any questions about the article or would like to arrange a consultation to see if dental implants might be a good option for you, you can contact the practice online or by phone for additional information. Telephone: (630) 969-2310.
Comments Off

on Can I Travel After Receiving Dental Implants?
No Comments
No comments yet.
RSS feed for comments on this post.
Sorry, the comment form is closed at this time.