September 20, 2023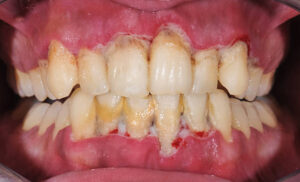 Did you know that cavities aren't the only issue that can potentially your dental health? Gum disease is another common threat that's often overlooked. The infection is caused by bacteria in plaque and tartar buildup from poor oral hygiene habits. Here are 5 facts you should know about gum disease to keep your smile healthy.
1. 50% of Adults Have Gum Disease
The Centers for Disease Control and Prevention reports that 50% of adults over the age of 30 have gum disease, but many don't know they have it. The early signs of the infection can be subtle. Without prompt treatment, the infection will progress until it causes irreversible damage to your dental health.
2. Bleeding Gums is a Sign of Infection
If you notice blood-tinged toothpaste after brushing your teeth, it's a sign that you need to contact your dentist. Red, swollen, and bleeding gums are the first symptoms of gingivitis, which is the earliest form of gum disease. Thankfully, it is easy to treat with a good dental cleaning and changes to your oral hygiene routine. However, ignoring changes to your gum health can lead to serious issues down the road.
3. Gum Disease Causes Tooth Loss
Gum disease can destroy the supporting structures of your teeth, including your jawbone. Over time, periodontitis can cause your teeth to shift, loosen, and fall out. Advanced stages of the infection require more complex treatment plans.
4. Gum Disease Affects Your Overall Health
Gum disease is known to increase your risk of several health issues. Bacteria from the infection may enter your bloodstream and circulate throughout your body. Advanced gum disease has been linked to an increased risk of heart disease, Alzheimer's disease, and even some cancers. It can also cause preterm delivery and low birth rates.
5. Gum Disease is Preventable
Although gum disease is common, it is preventable, just like cavities. Good oral hygiene is the best way to keep the infection at bay. Use a soft-bristled toothbrush and fluoride toothpaste to brush your teeth at least twice a day for 2 minutes. Commit to daily flossing to clean between each tooth and around the gum line. Finish your routine with an antimicrobial mouthwash to kill any bacteria lingering in your mouth.
Besides caring for your mouth at home, schedule a cleaning and checkup with your dentist every 6 months. If you notice any signs of gum disease between your regular appointments, contact your dentist.
Meet Dr. Frank Marchese
Dr. Marchese earned his dental degree from the University of Illinois College of Dentistry and has regularly continued his education to provide the most up-to-date services, like dental implants and cosmetic dentistry. He strives for excellence and is associated with many professional organizations, including the American Dental Association. Request an appointment through our website or call (630) 969-2310.
Comments Off

on 5 Surprising Facts About Gum Disease
No Comments
No comments yet.
RSS feed for comments on this post.
Sorry, the comment form is closed at this time.