November 10, 2023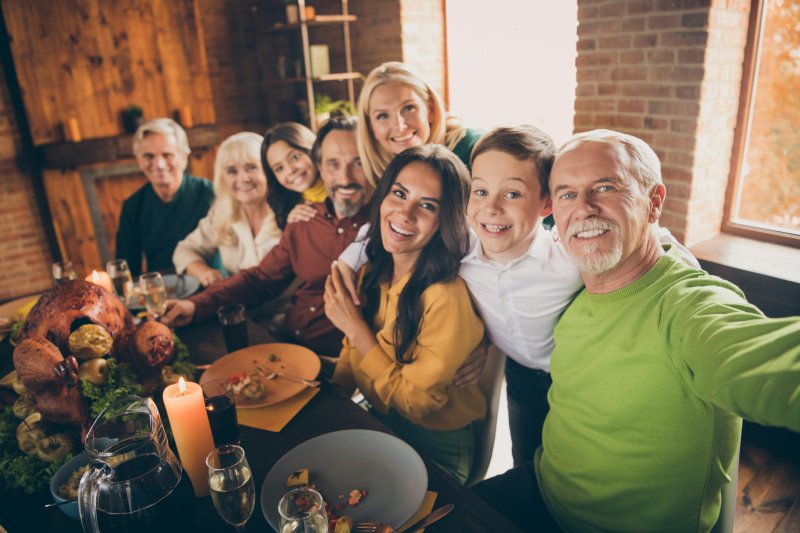 As Thanksgiving approaches, the anticipation of indulging in a festive feast with family grows in your heart and your tummy. While savoring the flavors of the season, it's important to be mindful of foods that can leave your pearly whites stained and yellow. To reverse the effects, you could get teeth whitening treatments, but if you stay mindful on your turkey day, you could avoid discoloration altogether.
If you want to learn about the most egregious Thanksgiving stain offenders, continue reading.
1. Cranberry Sauce
Cranberry sauce, a Thanksgiving staple, has a deep red pigment that can adhere to tooth enamel. Even worse, cranberries are very acidic. This acid weakens tooth enamel, leading to increased staining potential. While enjoying this tangy treat, consider moderating your intake and sipping water afterward to help minimize stains.
2. Red Wine
While red wine complements the Thanksgiving table well. It pairs well with many holiday food items and its color is pleasing to the eye. However, it's also notorious for staining teeth. Sipping water between glasses and considering lighter wine options can help minimize discoloration.
3. Sweet Potatoes
Sweet potatoes, often crowned with fluffy marshmallows, offer a yummy combination of sweetness and warmth. If you're looking for less-staining food, you'll need to look elsewhere. The vibrant orange pigment loves to stick to your teeth, and the sticky starch in them ensures the discoloration stays around for a while.
4. Balsamic Vinegar
Balsamic vinegar is often found in salads or drizzled over vegetables. It has a deep color and an acidity that gives it a crisp taste. However, this can also compromise tooth enamel and leave your teeth looking dark. Enjoy in moderation and pair with fibrous vegetables like broccoli or celery that will clean your teeth as you eat.
5. Berry-Heavy Desserts
Berries are a delicious filling for pies and tarts. Blueberries and blackberries, especially, are bursting with flavor and nutrition. But they can also contribute to teeth stains due to their dark blue-purple pigments. Go for lighter berries or include them in a dessert where their impact is diluted.
Now that you know which Thanksgiving foods contribute the most to tooth discoloration, you can easily avoid a run-in with them. If you're trying to keep your pearly whites sparkling, you'll need to plan accordingly. If all else fails, you can always visit your dentist for a teeth whitening treatment. It's the holidays, they'll understand.
About the Practice
Dr. Frank Marchese and Dr. Jeanelle Marchese work side-by-side as a father and daughter team at Arbor Dental Care: Dr. Frank Marchese. Their expertise in modern dental techniques and technology can help you get the treatment you need comfortably and conveniently. Both Dr. Frank and Dr. Jeanelle are big proponents of continued education, dedicating their time to the furtherance of their knowledge to better serve their patients. To schedule an appointment, call (630) 969-2310 or visit the website to learn more about the services they provide.
Comments Off

on Protect Your Pearly Whites on Thanksgiving by Avoiding These Staining Foods
No Comments
No comments yet.
RSS feed for comments on this post.
Sorry, the comment form is closed at this time.