Implant Dentures – Lisle, IL
Restore a Full Row of Lost Teeth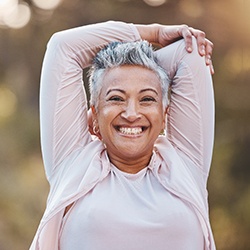 It's easy enough to see how a single dental implant post can replace one missing tooth. But what if you have lost all of your teeth? Fortunately, dental implants in Lisle are still an option, even if you have no natural pearly whites left. Instead of replacing each individual tooth with an implant, we can restore a full row of lost teeth with just a few implants. Plus, as a Fellow of the International Congress of Oral Implantologists, Dr. Frank Marchese can perform every step of the process right here in our office. Call Arbor Dental Care today if you're interested in a healthy, comfortable, and long-lasting solution to tooth loss.
Why Choose Arbor Dental Care for Implant Dentures?
We Place and Restore Dental Implants
Completely Personalized Treatment Plans
Fair and Honest Fees for All Services
What Are Implant Dentures?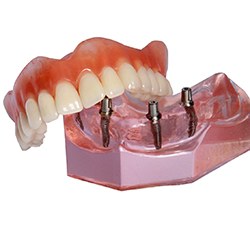 A denture is a type of dental prosthetic that consists of a number of replacement teeth supported by a gum-colored base. While it normally rests on your gums, it can also be attached to dental implants. The implant posts will prevent your denture from moving around in your mouth, and they can significantly improve biting and chewing power.
Implant dentures are either permanently fixed in place or designed so you can take them out of your mouth at any time.
Fixed/Permanent Implant Dentures
Fixed dentures are only ever removed by a dental expert. Otherwise, they remain in your mouth for 24 hours a day, including when you sleep. Maintenance for fixed implant dentures is relatively simple; you just need to give them the same kind of attention you would give your real teeth in the form of regular brushing and flossing.
Removable Implant Dentures
With removable implant dentures, you can take your new teeth out of your mouth at any time. This can have several advantages. For one thing, a removable denture usually requires fewer implant posts compared to a fixed one. For another, you'll have an easier time keeping the gum tissue underneath your dentures clean.
The Implant Denture Process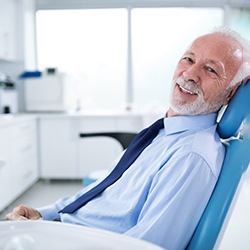 Getting implant-retained dentures will take several appointments. During the placement surgery, we will make small incisions in your gums to access your jawbone and place the implants in precise locations. Once we have stitched your gums closed, it will take about three to six months for osseointegration to occur. You'll then undergo another minor surgery, during which we expose the tops of the implants and place metal connectors called abutments. After you've recovered, the final step is to place your denture on top of your abutments. At long last, you'll have a beautiful and functional smile to enjoy!
Am I a Candidate for Implant Dentures?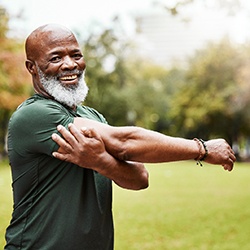 If you have lost all or most of your teeth in your top or bottom jaw, you should schedule a consultation with us to determine whether you're a candidate for an implant-retained denture. In some cases, we may need to strengthen the jawbone with a bone graft first so that it can adequately support dental implants. You should also be in excellent oral health, so we'll need to treat any issues such as gum disease before scheduling your implant procedure.
Benefits of Combining Dentures & Dental Implants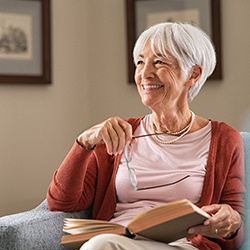 Because dental implants are firmly embedded in your jaw, they won't lose their fit and slip out of place like traditional dentures often do. This allows you to speak clearly and chew all of your favorite foods with confidence.
Normally, your jawbone begins to deteriorate after tooth loss because it no longer receives stimulation from your tooth roots through biting and chewing. Dental implants provide this stimulation, so your jawbone will remain strong enough to support your facial structures. You can maintain a youthful, vibrant appearance for years – if not decades – to come. With proper aftercare, your dental implants could even last a lifetime!