Single Tooth Implants – Lisle, IL
Restore a Complete, Beautiful Smile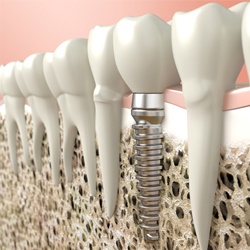 No one ever expects to lose a tooth, but it's more common than you might realize. In fact, research shows at least 120 million Americans have lost at least one. Thankfully, you have several options to replace a single missing tooth. Besides a traditional fixed bridge, we also offer the latest solutions using dental implants. We'll rebuild a beautiful, functional smile that looks natural.
Single Tooth Replacement Options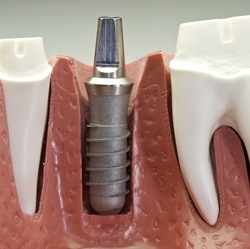 Every tooth is invaluable to your oral health. When even one is missing, you'll notice several changes to your dental health and your quality of life. It's easy to feel insecure about your incomplete smile, but your appearance isn't the only concern of tooth loss. You're also at risk of losing additional teeth because your jawbone will slowly deteriorate. As you lose more bone density, your remaining teeth won't have the support they need to stay in place. As they drift out of alignment, you'll have an increased risk of cavities, gum disease, and additional missing teeth.
You don't need to live with the challenges of an incomplete smile. We can fill the empty space using a solution that best meets your needs.
Fixed Bridge
A bridge and crowns are the most traditional treatment to replace a single missing tooth. We take a digital impression of your mouth to recreate the portion of your tooth visible above the gumline. It's made of all-ceramic material to look like a real tooth. This bridges the gap between your remaining teeth. The restoration is held in place by reshaping the adjacent teeth to bond dental crowns over them.
Single Tooth Implant
A dental implant rebuilds the entire structure of the tooth from the root up. A titanium implant post is surgically placed in your jawbone to act as a new root. An abutment is connected to the post to attach a custom-made crown. Replacing the entire tooth structure creates a nearly perfect replica of your natural smile without relying on other teeth for support.
Benefits of Implant-Supported Tooth Replacement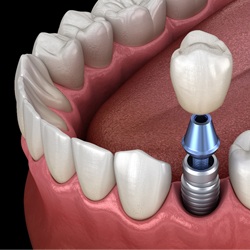 Although both treatments are effective for replacing a missing tooth, a dental implant offers exceptional advantages when compared to other treatments, including:
High Success Rate: Dental implants are the most reliable solution to treat tooth loss with over a 95% success rate to last for decades with the right care.
Looks Natural: All-ceramic material is customized to ensure your crown looks like your real tooth to smile confidently.
Feels Natural: You'll regain as much as 70% of your biting force because your jawbone stabilizes the crown.
Preserves Your Jawbone: The implant post serves as a root, stimulating new bone growth to keep your jaw strong.
Improves Oral Health: Stops dental drift and doesn't rely on healthy teeth to preserve your natural smile.
Cost-Effective: Your dental implant should never need to be replaced with the right after care to save money long-term.
Schedule a Consultation Today
You don't need to feel embarrassed by the empty space in your smile. We can replace your missing teeth using a personalized solution. Contact our office today to schedule your consultation for single tooth replacement.