November 13, 2015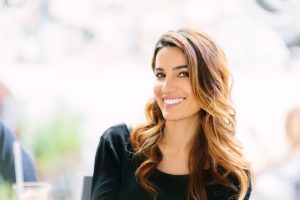 Let me tell you something, the word selfie didn't exist when we first started out in dentistry. Selfie sticks definitely didn't. Today, people of all ages love seeing images of themselves — but what if your smile isn't something you're 100 percent proud of? If you find yourself keeping your mouth shut tight for photos, or dreading the camera altogether, you should know you've got excellent enhancement options with porcelain veneers in Lisle, at Arbor Dental Care. Keep reading to learn how you can improve your smile — and grin big for that next selfie.
#5: Porcelain Veneers Mask a Number of Issues
If you've got one or more damaged front teeth, chances are good that porcelain veneers are an excellent treatment option for you. Veneers work by completely covering the damaged tooth with a thin porcelain covering, and they can transform a number of cosmetic dental problems, including:
Discolored or stained teeth that haven't responded to whitening treatments

Chipped or cracked teeth

Slightly misaligned or gapped teeth

Metal fillings or other dental hardware that mars the appearance of your smile
#4: Porcelain Never Stains
When your dental veneers are made of porcelain, you're also treating yourself to a permanent teeth whitening treatment — because porcelain is incredibly stain resistant.
#3: Veneers Take Just Two Visits to the Dentist
Some cosmetic treatments take lots of time and several appointments to the dentist to complete. But with porcelain veneers at Arbor Dental Care, you can have your smile transformed in just two visits to our office.
The first appointment is your consultation with Dr. Marchese, when you'll talk about your goals and desires with veneers. Your teeth will be prepared and you'll leave with temporary veneers. In your second appointment, your permanent restorations are ready to be placed — and you'll leave our office that day with a dazzling smile you won't ever want to hide.
#2: Porcelain Looks Just Like Your Natural Teeth
Today's dental veneers are an incredibly natural-looking restoration option. Porcelain reflects light just like the rest of your teeth, meaning the only thing you'll ever notice after the treatment is complete is just how beautiful your smile looks.
#1: A Beautiful, Confident Smile Is Priceless
The number one reason to choose porcelain veneers in Lisle is simple: you can't put a price on a smile that makes you feel good about yourself. After all, it's the first thing people notice about you — so make sure it looks good. We're here to help you achieve your smile dreams: contact Arbor Dental Care to learn about how porcelain veneers can transform your teeth today.

Comments Off

on Top Five Reasons to Choose Dental Veneers in Lisle
No Comments
No comments yet.
RSS feed for comments on this post.
Sorry, the comment form is closed at this time.