December 23, 2016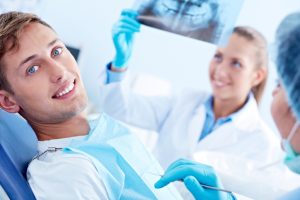 The Centers of Disease Control and Prevention states there are millions of cases of periodontal or gum disease diagnosed annually in the United States. More than 70 percent of senior adults have some form of it. This oral infection degrades gum tissue and the underlying jaw bone, and when untreated, periodontal disease causes tooth loss. Periodontal disease in Lisle is, however, largely preventable and can be successfully treated through modern techniques such as those used by Drs. Frank and Jeanelle Marchese at Arbor Dental Care Ltd.
Causes and Symptoms of Gum Disease
There are many signs of gum disease, including:
Persistent bad breath or halitosis
Reddened, bleeding, swollen gums
Pus at the gum line
Gum recession
Mobile teeth
Change in the fit of a denture
Change in dental bite
Tooth loss
Jaw bone deterioration
Unfortunately, some people have few to no symptoms until the disease has progressed to a more damaging stage.
With some patients, gum disease runs in their families. Others suffer from it because they smoke, neglect proper brushing and flossing, are diabetic, have hormonal fluctuations (as during pregnancy and menopause) or are simply aging.
Using gentle periodontal probing of the gums, dental hygienists measure pocket depth (between the gums and teeth). The sticky plaque hidden deep in these pockets (deeper than three mm means periodontitis) contain bacteria which can cause gum disease.
Why Gum Disease Requires Treatment
Besides compromising teeth and gums, periodontal disease has been linked to serious health conditions which affect the entire body. These conditions include:
Dementia and Alzheimer's Disease
Cardiovascular disease
High blood pressure
Stroke
Heart attack
Type-2 diabetes
Osteoporosis
Rheumatoid arthritis
That's why periodontal therapy from your Lisle dentist is so vital. It can greatly reduce these risks to your overall health.
Treating Gum Disease
For milder cases of gum disease, treatment involves correcting improper home oral hygiene. Routine in-office care is important as well. So, the professional staff at Arbor Dental Care Ltd.  recommends:
Twice daily brushing with a fluoride toothpaste and soft brush
Daily flossing to remove food residue and plaque from between the teeth
Six-month dental exams and hygienic cleanings to inspect for changes in teeth and gums and to scrape away plaque and tartar
Smoking cessation
More advanced periodontitis may be treated non-surgically with root planing and antibiotic therapy at the root level to stop the further growth of harmful micro-organisms. Comfortable laser therapy debrides and seals gum tissue without sutures.
Do You Have More Questions?
If it's time for your semi-annual examination and professional cleaning, contact Arbor Dental Care for an appointment. Also, if you have an immediate concern about the health of your gums or teeth, call right away. Drs. Frank and Jeanelle Marchese are known for their precise care and kind attitude. You'll know your oral health is in the best of hands.

Comments Off

on Periodontal Disease in Lisle and Why It Must be Treated
No Comments
No comments yet.
RSS feed for comments on this post.
Sorry, the comment form is closed at this time.