March 6, 2021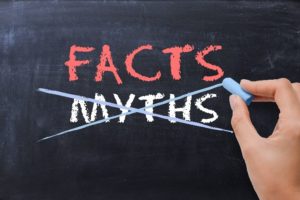 If you've lost a tooth or two, it's easy to feel embarrassed by your smile. Whether you're missing a single tooth, multiple teeth, or an entire arch, dental implants are the most successful solution to treat tooth loss. They provide unmatched benefits because they are the only treatment to rebuild the entire structure of the tooth from the root up. Although you'd like to enjoy their advantages for yourself, you've heard a few rumors about the procedure. There isn't anything to fear. Here are the facts you need about 5 of the most common dental implant myths.
Myth #1: Dental implants are only for old people.
Fact: If you've finished growing, there aren't any age restrictions for dental implants. Although tooth loss is often believed to affect the elderly, people in their 20s can have missing teeth. If you have good oral and general health, you can permanently replace your missing teeth using the most reliable solution for tooth loss; however, you'll still require a thorough consultation with your dentist to ensure they are the right choice for you.
Myth #2: Dental implants don't look natural.
Fact: A dental implant replicates both the root and the crown. As a result, they closely look and feel like your natural teeth. Unless you've told people about the procedure, they probably won't be able to tell that they aren't your real teeth, so you can smile confidently.
Myth #3: Having dental implants is painful.
Fact: It's true you'll need oral surgery to place the titanium posts into your jawbone, but you won't need to worry about any pain. Sedation or anesthesia is used to ensure you're comfortable during the procedure, so you won't feel anything. It's normal to have some discomfort for a few days while your mouth heals. You can manage it using an over-the-counter pain reliever.
Myth #4: Dental implants are expensive.
Fact: You'll initially pay more for dental implants in Lisle than other prosthetics; however, they are the most affordable long-term because they can last for decades with the right aftercare. You'll never need to pay to have them replaced to save money down the road. Since the procedure is performed in various steps, you won't need to pay the entire amount up front, making it easier to afford your new smile. There are also several solutions to lower the amount you pay out-of-pocket, like using your dental insurance.
Myth #5: There are dietary restrictions.
Fact: After your mouth has healed, there won't be any dietary restrictions. In fact, you'll regain as much as 70% of your natural biting force to enjoy many of your favorite foods again.
Invest in a Complete Smile
Choosing dental implants is a big decision. Your dentist will explain everything during your consultation, so you can feel confident about the road ahead.
About Dr. Frank Marchese
Dr. Marchese earned his dental degree from the University of Illinois College of Dentistry. He has over 30 years of experience in advanced dentistry procedures, including dental implants. As a member of the International Congress of Oral Implantologist, he has the qualifications you can trust. Contact our office today to schedule your consultation.
Comments Off

on Breaking 5 Myths about Dental Implants
No Comments
No comments yet.
RSS feed for comments on this post.
Sorry, the comment form is closed at this time.