September 7, 2016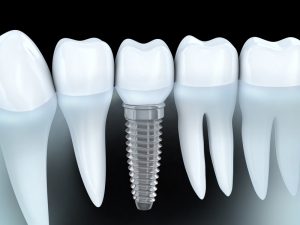 Dental implants in Lisle feel, function and appear like natural teeth. Research shows that most implants–about 95 percent, in fact–stay in place for decades. This longevity is impressive, but is it guaranteed? The Academy of Oral Implantologists says implant patients must care for their artificial teeth diligently.  Drs. Frank and Jeanelle Marchese of Arbor Dental Care inform restorative dentistry patients of all pertinent details regarding placement, healing and care of dental implants so patients enjoy their refurbished smiles for years.
The Anatomy of a Dental Implant
A typical dental implant has three parts:
A titanium screw or cylinder which gets surgically inserted into the jawbone
A metal abutment or extension post which affixes to the implant
This device is exceptionally stable because instead of resting on the gums and bone as traditional partial and full dentures and bridgework do, the dental implant lives right in the patient's jaw. It fuses to it through a process called osseointegration. Osseointegration melds human bone together with titanium making a bond that is durable and feels very natural.
Dental implants are so ingenious that the doctors can use them in multiples to secure bridgework or partial or full dentures. These prosthetics give patients with missing teeth natural-looking and functioning smiles, alleviating problems such as denture slippage and jaw bone resorption after extraction.
The Dental Implant Procedure
Your Lisle dentist meticulously evaluates patients for dental implant placement. The individual must be in good overall and oral health with sufficient gum tissue and bone to support the implant device. A graduate of the Misch International Implant Institute, Dr. Frank Marchese handles the entire dental implant treatment in his state of the art office–from examination and X-rays to implant placement and restoration.
The procedure itself is fairly simple, but it does require weeks of healing time for the implant to fully integrate with the jaw. Proper healing time strengthens the jaw bone so it can bear the significant forces involved in biting and chewing.
The dentist incises the gums and drills a small hole in the bone. He screws the implant device in place and closes the area with sutures. After healing, the patient returns to Arbor Dental Care for placement of the extension post and crown.
After Care of a Dental Implant
Dr. Marchese advises his implant patients to brush and floss their implants twice a day, just as they do their natural teeth. This important routine removes sticky, bacteria-filled plaque which causes infection and bone deterioration if left unchecked. This infection is called peri-implantitis,  and it can threaten implant longevity.
In addition, the implant patient must come to Arbor Dental Care every six months for an oral examination and hygienic cleaning. The hygienist uses special plastic manual or ultrasonic scalers and curettes to gently remove plaque and tartar. These instruments effectively clean around implants without disturbing the epithelial attachment between the gums, porcelain crown and metal abutment.
The doctors also advise drinking plenty of water to stimulate saliva production, eating a low-sugar diet and discontinuing cigarettes. In fact, these practices are good for all dental patients.
Investigate Further
Learn about dental implants in a consult with Dr. Marchese. Contact Arbor Dental Care for your convenient appointment time.
Comments Off

on Dr. Marchese Explains Care of Dental Implants in Lisle
No Comments
No comments yet.
RSS feed for comments on this post.
Sorry, the comment form is closed at this time.