September 11, 2015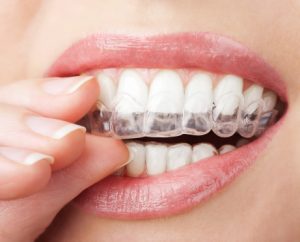 If you're past the age of 12, metal braces probably aren't on your wishlist this year. They used to be so cool, didn't they? But once you're dealing in staff meetings instead of sleepovers, and swanky restaurants over lunchrooms, the thought of getting adult metal braces just isn't a possibility. But if you've got gapped, crowded or crooked teeth, there's good news for you: Invisalign provides Lisle residents with straighter teeth — invisibly. Read on to learn more about this fabulous option in clear braces.

How Invisalign Works
The Invisalign system is an FDA-approved straightening method that uses a series of clear, removable trays to shift your teeth into a desired position quickly and invisibly.
To create an Invisalign treatment plan that meets your unique needs, Dr. Marchese will take careful x-rays and impressions of your teeth. Once you have a plan in place, you'll receive a series of aligners made especially for you. You'll switch out to a new set of aligners approximately every two weeks, in order to move on to the next stage in the treatment. Throughout the process, you'll visit with your dentist approximately every six weeks — that's our chance to make sure everything is progressing as it should.
Advantages of Invisalign
When compared to the other leading teeth straightening option, traditional metal braces, the advantages of Invisalign are many. It's a faster, invisible way to achieve straight teeth — and for years, adults have used it as a way to inconspicuously straighten the crooked teeth that negatively affected their confidence for far too long. Other advantages include:
Because Invisalign doesn't use the same materials as traditional braces, there's no need to worry about discomfort from a broken wire or loose bracket.
The clear trays Invisalign uses are designed to be faster than traditional braces, with treatment usually lasting around a year, as opposed to two years, with metal braces.
Easy to use. Because Invisalign trays are removable, you don't have to worry about learning any special cleaning methods, or being nervous when you eat. As long as you're wearing the trays from 20 to 22 hours each day, you can feel free to remove them when you eat, and before you brush (and floss!) at night.
Is Invisalign Right for You?
If you've got crowded, gapped or misaligned teeth, chances are Invisalign is an excellent treatment option for you. Good candidates typically have satisfactory oral health overall, and a sincere desire to improve their smile — and their life. To find out for sure if Invisalign is a good option for you, don't wait to contact Arbor Dental Care to schedule your appointment today. We can't get started on your journey to straighter teeth until you do!

Comments Off

on Get Straighter Teeth, Faster with Invisalign in Lisle
No Comments
No comments yet.
RSS feed for comments on this post.
Sorry, the comment form is closed at this time.