June 17, 2015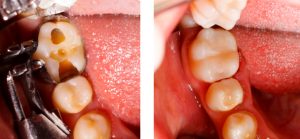 At Arbor Dental Care, we believe that all dentistry is cosmetic dentistry because it always affects your smile esthetic. That's one of the main reasons we offer tooth colored fillings as part of our restorative dentistry services. As a comprehensive dental care practice, we strive to restore your bite to optimal health while preserving as much of your natural teeth as possible. If you need a filling or are interested in replacing amalgam fillings near Lisle, IL, Dr. Frank Marchese and the outstanding Arbor Dental Care staff are here to help. Call to schedule an exam today.
Pros of Tooth Colored Fillings
Tooth colored fillings are considered composite fillings because they are made from a composite of silicon dioxide and tooth-colored plastic resins. You may assume that the only advantage to composite resin fillings is esthetic appeal, but there are actually numerous reasons why these fillings may be a better option than traditional fillings. The material, the strength of the bond, and the ability to blend with natural tooth coloring are all advantages to composite fillings.
Because composite resin is non-metallic, it can be blended to perfectly match existing teeth, the bond between the resin and the tooth is much stronger which protects the existing teeth, and perhaps most importantly, potential health risks associated with amalgam (silver) fillings are avoided. Amalgam fillings are composed of 50% mercury. While mercury in its solid state is not harmful to humans, it is easily vaporized, and can be extremely toxic when inhaled. Choosing composite resin fillings instead of amalgam fillings or replacing already existing amalgam fillings can help you avoid any potential long-term health effects associated with mercury exposure.
The bond between the resin and your tooth is much stronger than the bond with traditional fillings. This means there is less chance your filling will come loose over time. The bond also makes it possible for our staff to preserve a larger amount of your existing tooth than they are able to with amalgam fillings. Finally, the tight bonding between tooth and resin protects your tooth from further decay because there is significantly less space for bacteria to collect.
If that wasn't enough of a reason to consider composite resin fillings, the stark difference between a tooth with a composite and one with an amalgam filling might change your mind. While people are unlikely to see your tooth fillings during the normal course of conversation, laughing, yawning, and smiling often reveal fillings. With tooth colored fillings, your associates are none the wiser, but amalgam fillings stand out. To fully restore the esthetics of your smile after a filling, composite resin fillings are the best option.
Schedule an Appointment
Caring for teeth that are affected by decay is essential to protecting your overall oral health. Schedule an appointment as soon as possible, if you believe you have a cavity, or lose filling to minimize the amount of time bacteria are able to do further damage. Our friendly, knowledgeable staff are always here to help you. Our "ask the doctor" feature allows you to reach ask Dr. Marchese about any dental care concerns that arise between appointments. Call to schedule your appointment at Arbor Dental Care conveniently located in Lisle, IL. We welcome patients from the surrounding area including Naperville and Downers Grove.

Older Posts »