December 17, 2016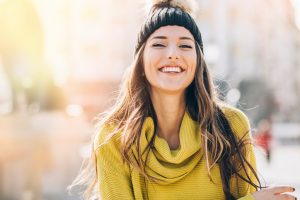 Your smile affects how people perceive you. The American Academy of Cosmetic Dentistry cites that research which shows that a bright smile almost guarantees a positive first impression. So, your cosmetic dentists in Lisle, Drs. Frank and Jeanelle Marchese, deliver a  range of aesthetic services aimed at changing your healthy smile from dull and yellow to absolutely dazzling. As part of your personalized care plan at Arbor Dental Care, just one simple treatment can make all the difference.
Solving Aesthetic Defects
At Arbor Dental Care in Lisle, your cosmetic dentist examines the condition of your teeth and gums. This involves visual inspection, digital X-rays, photos and other imaging when required. The doctor formulates a customized treatment plan designed to correct oral health issues first and then tackles aesthetic issues such as gaps, discoloration, crookedness and more. Your input as a cosmetic dentistry patient is invaluable to this plan. In other words, the dentist genuinely wants to know how you would like your smile to change.
The following are some of the treatments Dr. Frank Marchese and Dr. Jeanelle Marchese use to give you the smile of your dreams:
Teeth whitening Most patients tell the dentist that if they could change something about their smiles, it would be color. Stains from cigarettes, coffee, dark foods and the aging process yellow and dull our teeth. While whitening toothpastes and rinses have their place, they don't brighten tooth enamel as well as professional whitening. Supervised by the team at Arbor Dental Care, teeth whitening uses powerful hydrogen peroxide gel to bleach stains. Applied in the office or at home with customized trays, whitening brightens enamel by several shades without residual sensitivity.
Porcelain veneers Dental laminates cover deep discolorations, small chips, cracks and other imperfections. Sometimes called "instant orthodontics," veneers strengthen tooth enamel as they are permanently applied to the front of marred teeth at the front of the mouth.
Tooth-colored fillings Dark metal fillings are replaced with today's beautiful tooth-colored fillings. Seamless bonded right to healthy tooth structure, white fillings restore decay with a perfect color match. Also, the innovative composite resin may fill small gaps, smooth uneven tooth surfaces and repair chips and hairline cracks.
Porcelain inlays and onlays Also referred to as partial crowns, inlays and onlays replace very large fillings or cracked tooth structure. Dr. Marchese custom-designs these restorations which either fit between or on top of the corners of damaged teeth. For more extensive repair, the dentist places full porcelain crowns.
Invisalign clear aligners Amazingly quick orthodontic correction, Invisalign uses invisible aligners to move crooked teeth to healthier and more attractive positions. Popular with both teens and adults, Invisalign is a comfortable and easier way to achieve a straight smile using no metal wires or brackets.
The Smile Analysis
As a cosmetic dentistry patient at Arbor Dental Care, you will have a friendly conversation with Dr. Marchese. Working with your goals and budget, he will devise a care plan to deliver your most attractive smile ever!
Contact Arbor Dental Care for your personal consultation. You can look forward to a lifetime of healthy, attractive smiles and a positive first impression with people you meet.

Comments Off

on Arbor Dental Care: Your Cosmetic Dentists in Lisle
No Comments
No comments yet.
RSS feed for comments on this post.
Sorry, the comment form is closed at this time.