May 24, 2015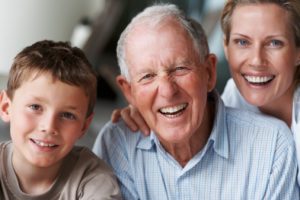 Today, the "family unit" includes people at all stages of life. Perhaps yours includes toddlers, teens, Uncle Joe and your kindly neighbor who feels like a member of the family. No matter who is in your family, you need a Lisle dentist who can take care of everyone's dental needs. Dr. Frank Marchese is the family dentist Lisle, IL, can count on to offer a comprehensive menu of family dentistry services.
From the very youngest patient to the eldest, the key to maintaining good oral health is avoiding problems in the first place. Therefore, Dr. Marchese and his team of dental hygienists and assistants focus on prevention. With this in mind, we'd like to see you and each member of your family every six months for dental checkups. At these checkups, we'll clean your teeth and evaluate the health of your gums—both of which go a long way toward preventing tooth decay and gum disease. We'll also examine each tooth for any early signs of cavities and take x-rays when necessary to find spots of decay that may be hiding between teeth or below the surface. At each of these checkups, you can expect an oral cancer screening and an evaluation of your bite to check for signs of TMJ disorder.
Fluoride Treatments and Dental Sealants
For the children in your family—and perhaps for you, too—fluoride treatments and dental sealants offer an added measure of protection against tooth decay. Fluoride is a mineral that strengthens teeth's enamel, the outer layer of each tooth and the first line of defense against the bacteria that generate the acids that can damage teeth. Likewise, dental sealants create a barrier between teeth and bacteria. Sealants go on as a liquid plastic and then harden to a solid. For children who might not have the dexterity or patience to adequately brush, dental sealants can be the difference between needing the drill or not.
Call Our Office Today
At Dr. Marchese's office, we'd be delighted to take care of your entire family's dental needs. We are the family dentist Lisle, IL, trusts for dental and oral health care in an environment that is simultaneously professional and caring. Our Lisle dental practice serves the Naperville and Downers Grove communities with comprehensive family dentistry, cosmetic dentistry and implant dentistry.